Conducting joint degree second-cycle studies with a general academic profile in the field of Specialised Theological Studies (STS) is the main goal of the agreement signed between UKSW and Jordan University College in Morogoro, Tanzania.
The agreement was signed by representatives of the authorities and the Theological Faculties of both universities.
– I hope this cooperation will be fruitful, bring benefits to both universities and contribute to student and scientific exchange – said Rev. Professor Marek Stokłosa, PhD, Vice-Rector for Research and International Cooperation, signed the contract on behalf of UKSW together with the Dean of the Faculty of Theology, Rev. Professor Piotr Tomasik, PhD.
This is our first international agreement on joined studies. Its main goal is to define the principles and conditions of cooperation between both universities in conducting joint studies in terms of theology in the field of Specialised Theological Studies, with a general academic profile, which will be completed with obtaining a professional title. According to the agreement, studies will be carried out at both universities in paralel and students will be able to be included in research projects organised at UKSW and JUCo. Joint degree studies will include interdisciplinary student education.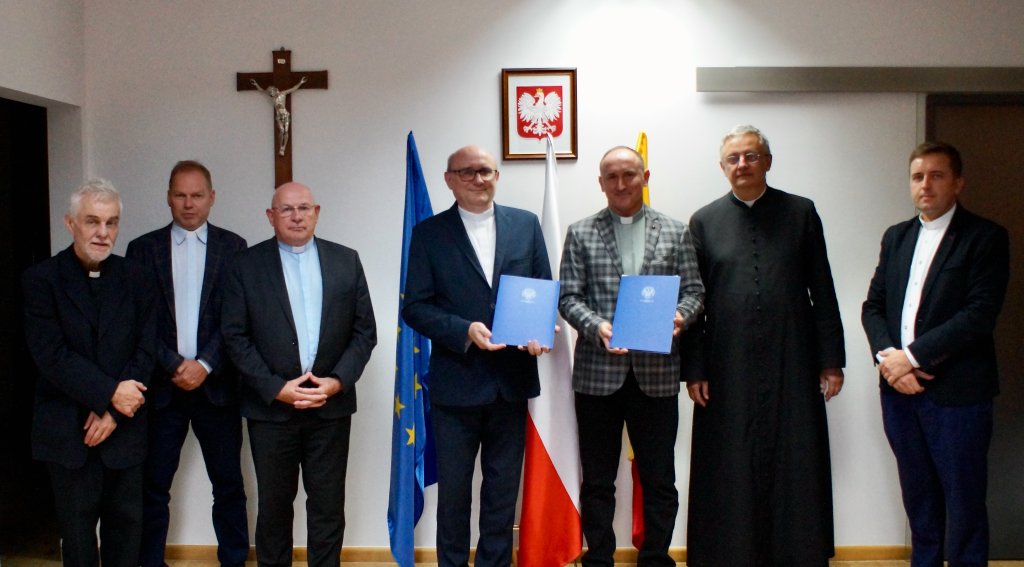 – Our University is the most international University in Africa, we have approximately 600 students of twenty nationalities – explained profesor representing the Tanzanian University and the Rector, prof. Bertram Baltasar Mapunda, father Jacek Górka, PhD, director of internationalization of JUCo. – The cooperation with UKSW, which was established some time ago, is very important to us. It creates many posibilities for African students. It is primarly the organization of Catholic teaching, but also drawing on the great tradition and scientific power of the University. We are a young University and we lack the background that we can fin dat UKSW – he added.
The education of students in STS wil be based on the highest teaching and research standards. Additionally, after meeting the conditions specified by the Holy See, students will be able to obtain a canonical bachelor's degree (Latin: Licentia in sacra Theologia) issued by UKSW.
Responsible for supervising the conduct of joint degree studies on the UKSW will be the Dean of the Faculty of Theology, and on the JUCo – the Dean of the Faculty of Philosophy and Theology. In addition, the universities will appoint an opinion giving team focused on establishing a mutual schedule of classes for each year and conductiong joint studies, which will include employees of both institutuions.
The contract was concluded for an indefinite period.
19 September 2023